---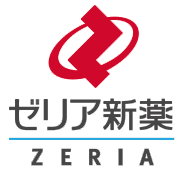 Our logo was adopted in 1998, soon after we were listed on Tokyo Stock Exchange. It incorporates a stylized "Z" which is both the first letter of our company name, and embodies an image of growth. The primary color is a shade we call ZERIA Red, combined with a line of blue through the middle of the logo. These were chosen for their complementary meanings of passion and intelligence, as well as arteries and veins. Taken as a whole, this logo expresses our determination that making health is making happiness.
Origin of the Zeria Corporate Name
Our corporate name originates from the word "Geriatrics." To express our corporate name in English, the capitalized "G" was replaced with "Z" that was taken from the Japanese Z-Flag, which symbolizes victory.
---